Best in Show: Five Intriguing Products from the 2016 ABC Kids Expo
The ABC Kids Expo took place last week, giving the world a view of the latest and greatest that the baby industry has to offer. While there were tons of new products—many of which will show up here for testing—we wanted to highlight a few of them that stood out to us. These aren't recommendations, just interesting products that may find their way into future guides.
Silver Cross Wave Convertible Stroller
Silver Cross has been eyeing the US market for years. With an appearance at the ABC Kids Expo last week, they've finally made their intentions clear. The British brand will deliver the Wave stroller to the eager masses next year. Why should you be excited? Well, while not everyone can get excited about their well-known polished chrome prams, we can get excited about a new single to double stroller.
The Wave brings modular design for one or two, top-quality materials and high style to the uber-competitive double stroller market. The stroller system will be available as a single, or double, with the option for two bassinets. You'll see an instant similarity to the UPPAbaby Vista. This is no coincidence. The Wave will compete directly with it, as well as the Bugaboo Donkey in the high-end market. Expect to pay $1100 for a single stroller, and around $1300 for the double.
Keekaroo Snoozer
Keekaroo has been in the high chair and changing pad categories for some time. All of their products utilize a waterproof, puncture-proof and supportive "Dura-Soft" material. Is it foam? Is it plastic? It's really a mix of both and then some, but it contains no BPA, PVCs, latex or phthalates, making for a durable and safe product. Their most recent release, the Peanut Changer, is so popular that it's taking them 6-8 weeks to fulfill orders, and people are still willing to wait! Now the company has turned their glance towards the living room, with the Keekaroo Snoozer. It uses the same material to form a perfect napping and lounging spot for your baby. Anytime you need to do something like run to the bathroom, or grab the toast before it burns, you can now safely and securely place your baby in this new seat. No photos on this one yet!
Skip Hop Tuo Convertible High Chair
The Tuo is an affectionate nod to the Spanish made Micuna Ovo high chair. That said, there's a $300 price difference between them. The Tuo chair will retail for only $150, with a sleek, wooden base and wipeable seating. The chair converts from high chair with a three-position tray to a low-profile and stable seat for a toddler.
New UPPAbaby Cruz/Vista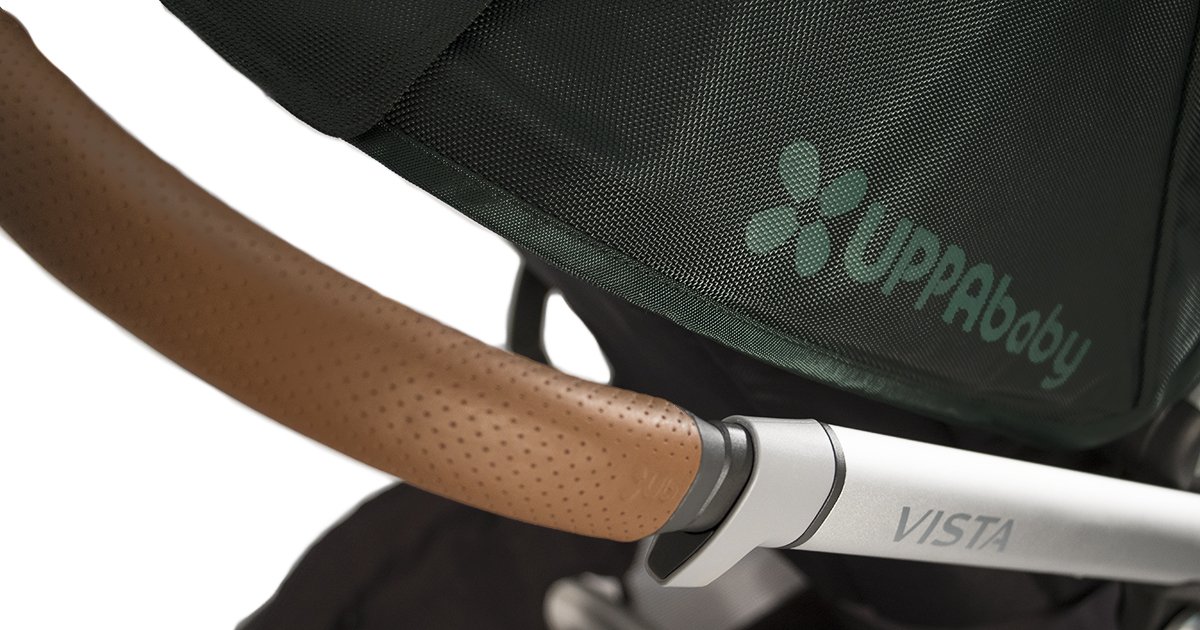 UPPAbaby has made some minor enhancements to their product line. Here are the key changes:
The 2017 Cruz and Vista will have new polyurethane wheels, for better durability and longevity. There will be four new colors added to the fray (with some older colors being discontinued), including a new top-level trim that comes with leather grip handles. Denny, Georgie and Maya are no longer being manufactured. The replacement colors (all named after employee's kids) are Dennison, Loic, Austin and Henry. If you already have a Cruz or Vista stroller, the handle grips and new wheels will be available as an accessory once the new models hit stores. Pricing for the stroller will stay consistent with 2016. Silver frame options are $499/$839,black frame options are $529/$879, with the new trim with leather handles at $549/$899. The new lineup is as follows:
Boon Spiff
The Spiff is a four-piece grooming kit for your dapper toddler. The set comes with a mirror, comb, brush and a small version of their popular Grass countertop. Not only is it cute, but it's practical, and everything in the kit is toddler-safe. Boon has also introduced a 6 piece newborn essentials pack called Care. You'll get your basic items, like a nasal aspirator, medicine spoon and nail clippers, but the key item is a quick read thermometer. All of this comes in a convenient zippered pouch. Look for both items to release at the beginning of 2017.